Outlook has a great article about corporate defaults.
Accor­ding to the All-India Bank Employees' Associa­tion (AIBEA), bad loans have gone up from Rs 40,000 crore in 2008 to Rs 1,90,000 crore in 2013. "In addition to the official bad loans data, there is Rs 3,25,000 crore of hidden bad loans in the name of restructured loans (often dubbed CDRs, or corporate debt restru­cturing) that are being passed off as good loans," says C.H. Venkatachalam, general secretary, AIBEA.
It gets worse:
As a percentage of total bank credit, gross bank NPAs constituted 3.3 per cent in March this year, rising to 3.7 per cent by end-June. This figure could reach 4.4 per cent by March 2014, turning almost Rs 1 trillion worth of bank credit as NPAs within such a short span, rating agency crisil stated in its report last month. That's why the government is increasin­gly being put under pressure to act and put the spotlight on corporate delinquency or what some call wilful fraud.
We've seen that corporate defaulter data is not often shared between banks. Not because they can't share data. But because they don't want to.
Most loans  have covenants where if the borrower defaults on any other loan to anyone else, this loan also becomes fully due. It is therefore horrible for a bank which has lent, say, Rs. 1,000 crores to a borrower, to find out that he defaulted on a Rs. 50 crore loan elsewhere. Because it is now obvious that if he can't pay back 50 crores, he can't pay back 1,000 crores. And that is a problem.
The way banks deal with this problem is: if I don't know, I don't have to care.
Meaning: if they know there is a default, the banks will have to then call in their loan, face a risk of the company being unable to pay, and therefore have to provision against a default. Provisions and subsequent losses hurt profits and capital, and banks have a natural disincentive for recognizing the problem.
It is quite likely that the bank is already aware that the company is in trouble. In fact, there may be some people in the credit department that are actively "managing" the loan, ensuring the loan doesn't cross the 90-day-without-interest-paid clause. This is usually done with corporates, not with individuals; since there is so much more room to lend corporates money in a different guise.
The biggest defaulters should be sued.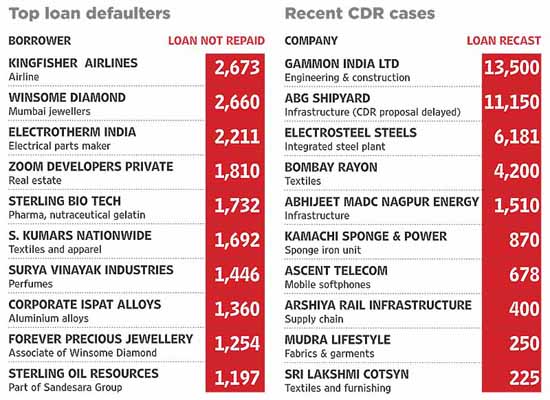 Yet, no suit from any bank has been filed on Kingfisher Airlines. No suit on Windsome diamonds. Electrotherm was sued, but only for Rs. 98 crore worth loans. (Warning: This list is incomplete. Ut doesn't include the biggest suit filed - of more than 2,200 cr - against Etisalad DB, by Stanchart and Citibank.)
India is supposedly "getting tough" on wilful defaults. But a cursory analysis of CIBIL suit filed data since 2002, using the simple search string "LIMITED" (since that is what corporates have to have in their name) tells you that the total suits filed against corporates is coming down!
(Source: CIBIL)
If this situation doesn't change, we are not just a crony capitalist society, we are also a crony banking system. RBI needs to act fast to penalize banks that do not file suits against all defaulters who owe them Rs. 1 crore or more, or attempt to sell collateral. And data needs to be shared instantly, and electronically, with PAN numbers of all companies and directors, so that all banks have systems to tell them to mark their loans as potentially bad immediately if a borrower has defaulted elsewhere.
The concept of restructuring should not be allowed without a severe penalty. Banks should be forced to recognize losses, and raise capital. We need to let banks fail if they have to.
The idea that a person defaulting is bad, but that a corporate defaulting is okay has oodles of moral hazard and cronyism built in. We often blame our politicians, but in this particular case, it's our banking system that has failed to play its role.