Via @palmerandrew: Chart of EM Currencies: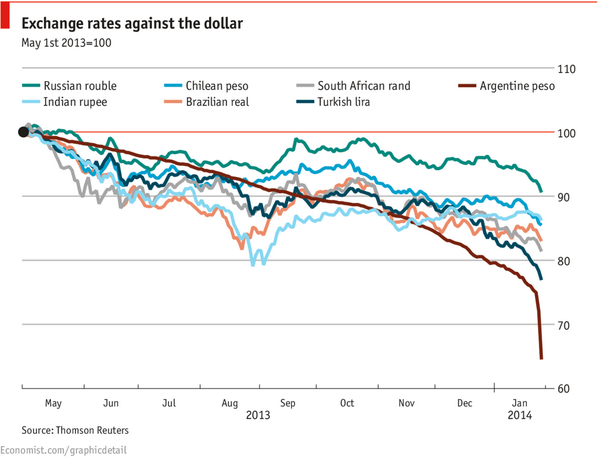 51 million iPhones, 26 million iPads, in one darn quarter. But Apple's $13 billion earnings was a tad lower than the previous year, and lower than street estimates (which nowadays are a bigger thing than reality, it seems). The stock is down 8% in after-market trade as a consequence.
Parag Parikh on why closed ended funds are becoming seriously popular:
For simplicity's sake, let's ignore the regulatory slabs for expense ratios and assume a fund can charge 2.5% as expenses per year. Say for instance a fund is closed end for 5 years, it can have 12.5% as expenses. The AMC of such a fund would offer anywhere between 7 to 8% to the distributors. Their job is to get an investor who would be locked in for 5 years. And for getting that money for five years the distributor is rewarded with an upfront commission. This has got the distributors active. Imagine getting paid for 5 years work today itself. They will sell anything to anybody.
The Government will sell wheat in the open market, says Hindu Business Line.
The State-run Food Corporation of India (FCI) had recently entered into an agreement with NCDEX Spot Exchange (NSPOT) to sell wheat in the open market.

"The first of the e-auction of wheat was successfully carried out on January 25, 2014 in Delhi and Hyderabad," NSPOT said in a statement.
Chinese data is suspect again, says Bloomberg. Ooh.
Hong Kong's December imports from China fell 1.9 percent from a year earlier to HK$176 billion ($22.7 billion), the city's statistics department said yesterday. That compares with $38.5 billion in exports to Hong Kong reported earlier this month by China's customs administration, up 2.3 percent, based on data compiled by Bloomberg.
Bloomberg reports that they're stalling Air Asia using a 1937 law that allows the regulator to call for, in Aam Aadmi Party style, public opinion on whether we need another airline:
India's aviation regulator invoked a a provision under its Aircraft Rules 1937, for the first time, asking for public feedback on an application by an airline to start services in the country. That delayed plans for AirAsia, which had aimed to start operations by the end of December and offer free tickets for some seats.
New York Times on the insanity that happened in the US housing market. Come a few years, and we'll write this about India.
The story of 12204 Backus Drive is in many ways the story of the American housing market: first anodyne, then ruinous, then resilient. It is peopled with losers and villains, lucky winners and a young couple hoping for, but not counting on, good fortune. This house's value peaked at $540,000, plunged to $215,000, and rapidly convalesced until, last year, it sold for an amount that might be considered auspicious.
No faith in India, actions of Indian retail investors show (WSJ). Confusing the DII numbers for MF? Or is this reality?
From the start of September through Friday, Indian mutual funds, a proxy for the behavior of individual investors, unloaded $1.6 billion of shares, representing an acceleration of selling from earlier in the year, according to data from the Securities and Exchange Board of India.
Finally, someone listens. Mish reports that Europe is dumbing its silly Global Warming and Climate Protection Goals. I believe that humans are not responsible for more than a very tiny amount of the warming out there and we're not really warmer than the past, and that some scientists are motivated more by hatred of big-oil and the funding they get from creating the fear. This drives into very bad conclusions, and I'm glad Europe's getting the picture.
At the request of Commission President José Manuel Barroso, EU member states are no longer to receive specific guidelines for the development of renewable energy. The stated aim of increasing the share of green energy across the EU to up to 27 percent will hold. But how seriously countries tackle this project will no longer be regulated within the plan.